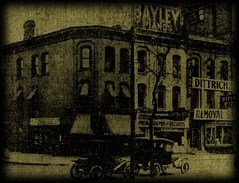 When Dittrich Furs opened it's doors toward the end of the 19th century, it was a very different world than it is today. Henry Ford was experimenting with the two-cylinder engine and Detroit's streets were illuminated by gaslight. On February 21, 1893 Emil Dittrich, a furrier from London, opened a small, second-story wholesale shop on Witherall Avenue, near Trapper's Alley. Emil bought pelts directly from the trappers and made them into scarves and collars for wool coats. Now in its fifth generation of family leadership, Dittrich Furs is the oldest family-owned retail business in Detroit.
Emil started a tradition of quality by only using the finest pelts in his garments. It wasn't long before he had a thriving retail business in addition to his wholesale operation. After World War I, Dittrich Furs outgrew its original location and moved to the Fisher Arcade on Woodward Avenue. Emil and his three sons, Francis, Harold E. and Alfred operated the business until it moved to its third location on Grand River in 1928.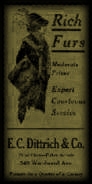 Dittrich Furs remained at the Grand River location until 1965 when freeway construction mandated another move, this time to its current location on Third Avenue. At this time the store began to undergo many changes. Facilities were updated to state of the art and the services available to customers were increased to compensate for customer demand and technological advances in fur care and manufacturing. Harold E. Dittrich brought his three sons Robert, Donald and Harold M. into the business and they learned all aspects of the company under the tutelage of their father as he had from his. Harold's first lesson to each new employee, including his sons, was to take them to the sales floor where he would point to the front door and state "When someone comes through that door, we treat them like they are coming into our living room". The Dittrich family still gives the same instructions to every new employee.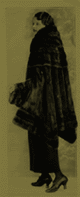 Harold M. Dittrich began his career at Dittrich's as a young boy distributing flyers door-to-door for the company. Under his guidance, along with his son, Harold (Hal) G. Dittrich, the company opened a branch store in Bloomfield Hills in 1977. Harold M. was Chairman of the Board for over twenty years and remained active in the business until his death in 1996.
Today, the Dittrich family continues the tradition of excellence by following the same principles set forth by their predecessors. They have instigated employee training programs that insure that each and every customer deals with a fur expert and receives a high level of service that is often hard to find in this day and age. In addition, they make sure every customers garment is personally inspected several times and at least once by a Dittrich family member to ensure it is cared for properly and necessary maintenance is suggested. The new generation of Dittrichs continually modernized the inventory selection, providing the latest in high-fashion and designer name garments, including merchandise designed by the Dittrich's themselves.
From very humble beginnings, Dittrich Furs has grown to house one of the largest fur collections in the United States. The company provides a full range of services, including the design and manufacturing of fur garments, repairing and re-styling of older garments and state of the art cleaning and storage. Every employee is part of the "Dittrich Family" and understands that every customer's happiness contributes to the success of the company.